Working in the kitchen is a very interesting thing to do. There are so many famous actors and actresses that are known to have a fondness for the kitchen and even love to cook. The fact that programs like "Top Chef" are gaining so much popularity is proof of the fact that spending time in the kitchen is increasingly becoming a favorite hobby amongst the masses. Not only do you get to try out new dishes, you can actually control what you eat and ensure that you eat healthy. Plus, doctors say that cooking is a very healthy activity in itself especially for people who want to calm themselves down a notch. Now, where the concept is basically fun, it can be spruced up if you have a bundle of interesting and unique kitchen gadgets to help you around and to add a touch of creativity to your serving style. Seeing to the fact that our readers won't have to look around a lot to get the most unique gadgets for their kitchen, we have come up with this list of the ten most unique kitchen gadgets that you should buy! Read on to find out what would suit your kitchen and culinary needs!
10. Battery Salt and Pepper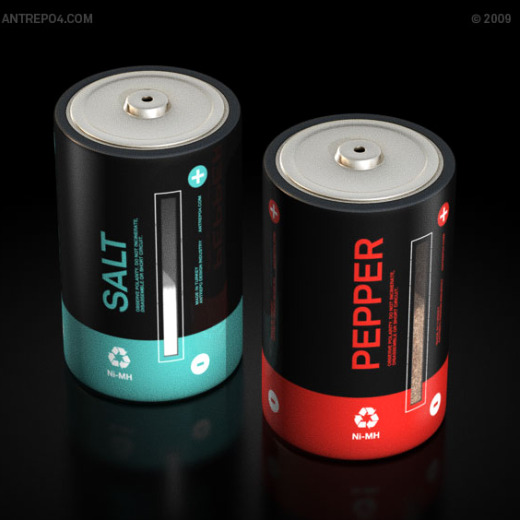 The first gadget on our list is salt and pepper shakers. But do not worry, these are not your ordinary salt and pepper shaker. You know how every household has a salt and pepper shaker on the dinning table. Well we can bet that none of the tables have shakers that indicate the extent to which they are filled and when they would need a refill! Well the markers on these little babies let us know when we will be need to put more salt and pepper into them and secondly, these are available in a range of different colors combinations for you to select. Is this unique or what?
9. Twirling Spaghetti Fork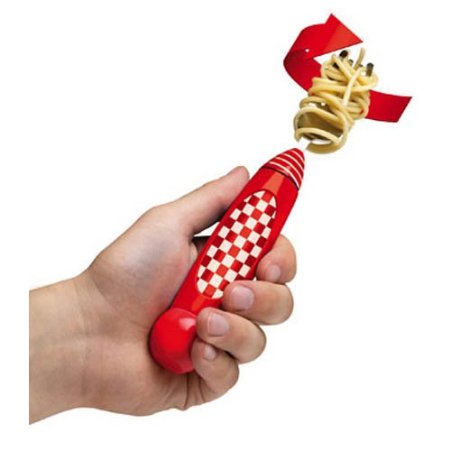 The gadget on our list of the ten most unique kitchen gadgets that you should buy is the twirling spaghetti spoon. This, might we add, is a genius invention. You know how every one just loves to eat pasta and spaghetti and all other varieties in the market that require you to twirl it around your fork so that you can get a reasonable amount in your mouth, and we are sure you realize how difficult it sometimes gets since the spaghetti just keeps slipping off. Well worry no more for now you have the twirling spoon or fork what ever you might want to call it. Just mark your place and "Twirl" automatically. Remove your hand off of the twirl button and you have yourself a bite. Cool isn't it?
8. Peanut Butter and Jelly Knife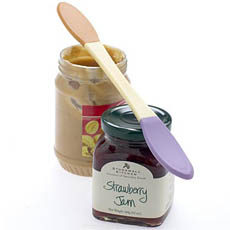 The next gadget on our list is another genius invention. Peanut butter and jelly sandwiches are pretty much famous all over the word no matter which cult, religion, hemisphere, or continent you belong too! So what happens is that when you are getting late for office or school, or your university and you need to make a quick sandwich, you just grab your ordinary steak knife, plunge it into the peanut butter and then into the jelly and voila! Now the person who does not admire the combination would hate bits of  peanut butter in their jam so just put this handy little double ended knife next to the jars off peanut butter and jam and no longer give any one the excuse, when its even color coded!
7. Seasoning book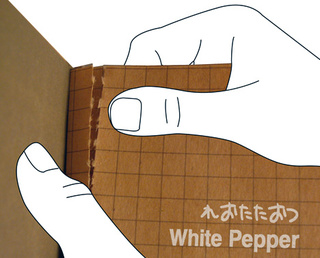 The next item on our list of the ten most unique kitchen gadgets that you should buy is the seasoning book. Sometimes it so happens that you seasoning jars are scattered all over the place and to deal with that geeky nerds have come up with the seasoning books. Just take a paper of your desired seasoning off of the book and drop it in your cooking utensil, it will dissolve to give you a super taste! Pretty cool rite!
6. Salad Spoon Plant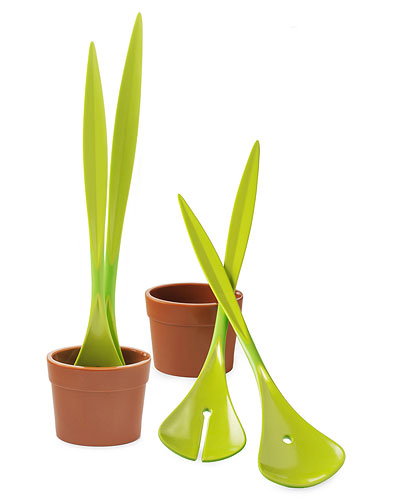 Here is an interesting little gadget to spruce up your dining table. This thing that looks more like a plant is actually holding salad tossing spoons. And it would be interesting to see the look on the faces of your guests when you take a leaf out of the plant and start tossing you salad with it! A hearty laugh might result too and then a present!
5. Condiment Gun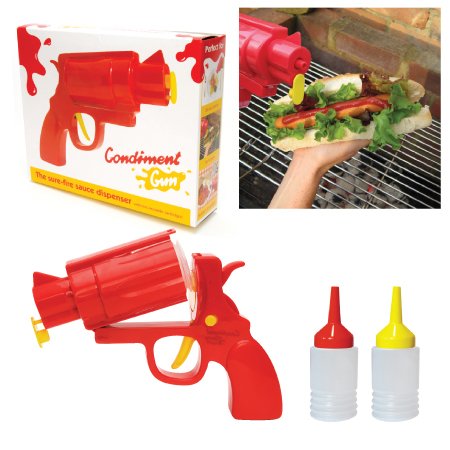 You no longer need to squeeze bottles of dressing when you can simple use this gun to spritz the dressing on top of you burger, sandwich, or food! This is probably one of the coolest kitchen utensils ever! Kudos to the technological geniuses out there!
4. Sharky Tea Infuser
Imagine JAWS, and then imagine this little shark in your tea cup. The next gadget on our list of the ten most unique kitchen gadgets that you should buy is sharky the tea infuser. You pour tea leaves into the little things and let it swim around your tea cup till you have the perfect consistency and voila! Drinking tea has never been so creative!
3. Smokey the Smoke Alarm Silencer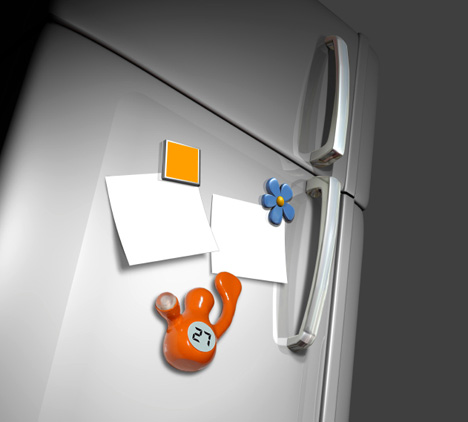 How many times has it happened to you that while you cook the smoke alarm goes off. Well now you can prevent that from happening by simply attaching this smoke alarm sensor into your kitchen. It is remote controlled so all you need to do is press a button and the shrieking alarm will quiet itself!
2. Catapult Spoon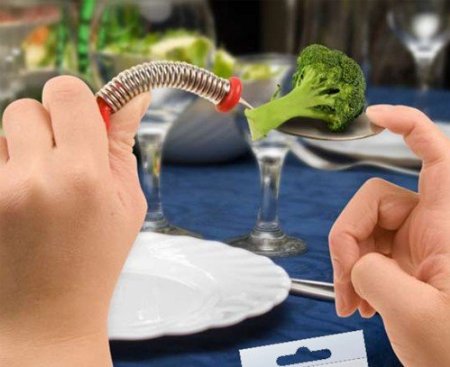 The next gadget on our list will definitely ensure that your dining table gets spruced up! Just give you kids this zing catapulting spoon and watch them go! Given that you can handle having broccoli fired all over your kitchen, this will really make for a festive diner table gadget!
1. Sauce Dispensing Chopsticks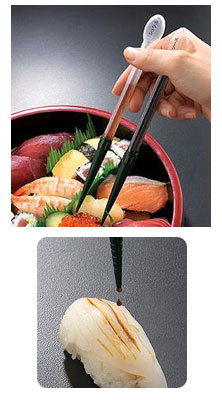 Last but certainly not the least, these sauce dispensing chopsticks allow you to pour rite on top of your bite before you grab it in the sticks and ensures that you do not drop your bite on its way to your mouth what with managing to pick it up and then taking it to the sauce for dipping and them taking it to your mouth!