Are you dreaming for the speediest possible ride? You can now make it true (if you decide to sell all your property and organs or you are really rich). Anyways, what's the harm in having knowledge of the fastest cars in the world in 2014? Here is a list of top 10 fastest cars with the toughest engines of the world in 2014! Even imagining yourself tearing through the winds at a speed this high can make you go all crazy!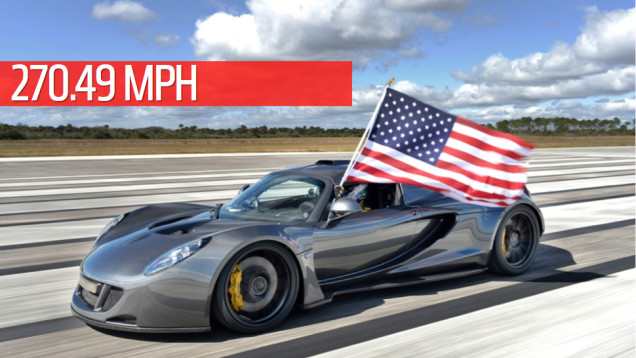 10. Pagani Huayra
It is hot, futuristic, and the god of wind that rushes at a top speed of 230 mph (370 km/h). It's distinguished with a seven speed auto-manual transmission to ensure a quick and smooth ride. Ranking on number 10, its cool price is $1300000.
9. Saleen S7 Twin-Turbo
Do you want it impressive, fast, affordable, and strong? Then Saleen S7 Twin-Turbo is a four-in-one offer. Its cost is $555,000, and it speed is un-believable 248 miles per hour, and is equipped with a strong engine with 750 horsepower. Thus, the racing monster is appealing in all ways for its lovers.
8. Zenvo ST1
Don't wait to put your hands on the powerful Danish monster. Zenvo ST1 stands on number 8 amongst the fast cars in the world in 2014. It runs as fast as 233 mph (374 km/h). At the base price of $1.25 million, this car is going to take your breaths away. The race secret is in its strong engine having 1,104 horsepower. Don't delay as only 15 lucky people can get this gift for 2014.
7. McLaren F1
The doors are reminiscent of bat wings. Isn't that sexy? Listen more then: McLaren F1 is the super awesome fastest production with this fabulous design, a V12 engine with 627 horsepower. It runs at an impressive 240 mph (386 km/h) and the doors swing open upwards as opposed to outwards at the cool $970,000.
6. Porsche 9ff GT-9, SSC Ultimate Aero
If you want an American fastest car, then hurry up! Porsche 9ff GT-9, SSC Ultimate Aero is available in limited Production at number six in the list of top 10 fastest cars in the world in 2014. Its amazing features are 1120 horsepower engine with 257 mph (413 km/h). Another specialty that others won't have is that it can be customized as per Owner after purchase it is available at a price of $700,000.
5. Koenigsegg CCX
A Swedish sleek design, it is on the fifth rank for 2014. This is Koenigsegg CCX that reaches 245 miles per hour and only in 3.2 seconds, can go from 0-60. It's surely a car lover's dream with engine of 806 horsepower at an amazing base price of $550,000. It is one of the rare cars out there.
4. Ferrari LaFerrari
Ferrari, as Ferrari LaFerrari, is on the mark again in top four with an aggressive and a smart look that is no less than a jet. It is the first Ferrari featuring a hybrid system paired with two electric motors and a 6.2 liter V-12 engine. The speed you can't catch as the car accelerates from 0-62 mph in 2.9 seconds only with a top speed up to 220 mph. With a worth of $1,300,000, it is an amazing fast car to buy!
3. Koenigsegg Agera R
Wishing for a car that drives smoothly on snow and goes from 0-60 in only 2.9 seconds? Then, Koenigsegg Agera R is the right choice for you at a cool $1.6 million price. The popular car, ranking on the third among fastest cars of the world for 2014, is equipped with an impressive v8 5.0 liter engine and 1099 horsepower.
2.  Bugatti Super Veyron Sport
Truly, this is a piece of machinery which cannot be compared. Bugatti Super Veyron  Sport  that can ride from 0-60 in an amazing 2.4 seconds on the road reaching 267 miles per hour and is made with an 8 liter W16 engine. It's in your reach just at a whopping price tag of $2.4 MILLION!
1. Hennessey Venom GT
Are you desperate to know the fastest car on planet? , Ranking on the top is another fastest car. It's Hennessey Venom GT that with a powerful turbocharged v8 engine of 1200 horsepower claims to reach 270.49 miles per hour and can go from 0-60 in only a short 2.3 seconds. The car costs $1,200,000.