Everyone who has a garden in their house clearly knows and appreciates the benefits of having a beautiful garden. Gardens not only brighten up the living space by introducing a lively aspect of nature but also help the human body in relaxation. If you own a garden or have atleast dedicated some place to plants then you will be clearly be enjoying the relaxing days that you spend watering the plants, breathing in their exhilarating freshness, and say doing yoga amidst them. There is nothing that can be more calming to us then to be able to live and breathe amongst plants. The best of gardens need good planning and careful care that makes them blossom. Realizing your needs in this aspect, we have come up with some of the most useful tips that can help you prune and put together a beautiful garden for yourself. The tips are simple and easy so read on for the top ten gardening tips that you will be thankful for.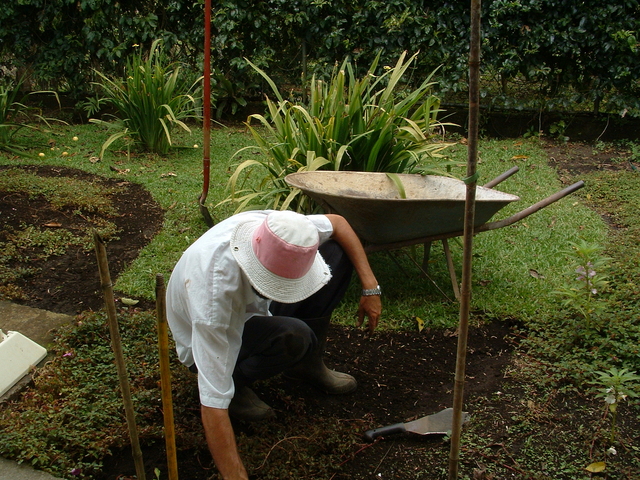 10. Planning a garden
We start off our list of tips at the beginning that is the planning phase for the garden. The best gardeners in the world say that when planning a garden, think of the basics and keep your priorities in mind. For example you should start with a basic and simple design, followed by the shape of the planting beds, their positions, the paths in the garden, a gazebo if desired, maybe a rock fall, and steps. Once you are done with this, you can simply start with deciding what plant to plant where.
9. Soil conditions
If it is just plants that you wish to grow or even if it is a lawn that you might want to cultivate as well, preparing the ground is as important to the whole process as the proper preparation of the dough is too bread or the proper mixture is to cake baking. You need to ensure that you have atleast 45-60 cm of topsoil with easy drainage. Also, when you are trying to relieve ground, ensure that it is done during dry weather conditions. This brings us to another important point that while developing a garden, you should not walk on the soil when it is wet, especially heavy soils. If the said is done, your roots will grow to an astonishing depth.
8. Soil improvement
The next tip in our list of the top gardening tips is the process of soil improvement. Most gardeners who are new to the whole process generally layer on more topsoil to make up for heavy clay or light sandy soils. The better alternative it to nourish the already existing soil with soil conditioners or natural garden compost. This whole process should be done before you start planting and obviously mulch should follow too.
7. Choosing your plants
The choice of plants certainly depends upon how much effort you are willing too put into your garden or how much effort can you afford to put into your garden. More simply stated, the next tip in our list is regarding the selection of plants for your garden. If you have open and ample space then you can easily consider quick growing varieties that can be kept under control by regular pruning, however, if you have a lot of paths and steps and a huge sitting area you might want to select plants that are easier to care for and do not require daily pruning and cutting to make them look neat!
6. Planting schemes
The next tip in our list of the top ten tips for awesome gardening (especially catering to people who have most recently developed an interest in gardening) we have planting schemes. This simply exists to nullify the myth that repetitive planting schemes do not look good. In actual, you should group your planting, that way you have an easier hold over the color and texture combination and scheming in groups can result in a more unified outlook of the garden!
5. Planting Roses
Our next tip concerns the plantation of roses in the garden. When planting roses it should be kept in mind that the knobbly bit between the stem and the root should be atleast under two centimeters of fresh soil. A lot of people simply plant roses into a bed that had roses growing in it previously. This is not advised; if you need to reuse the same bed then atleast ensure that there is atleast 45 centimeters of fresh soil on top of the bed before you plant fresh roses.
4. Climbing and Rambling roses
Another tip regarding roses that need to be acting as climbers for walls and fences. There are basically just two rules for this: use climbing varieties such as Compassion of Danse De Feu. The second rule is actually a best practice where you just need to ensure that the roses that fall under the rambling variety need to be grown on an open place so that there is a good flow of air especially around the stems which ensures the absence of diseases like black spot.
3. Pruning early flowering shrubs
The next tip on our list of the best top for gardening is regarding the pruning of shrubs that are flowering on last year's growth. The branches of all such shrubs need to be thinned enough to reduce the stem to a few centimeters of the last year's growth. The key word is "thinning" and not "trimming". This practice will ensure a handful of flowers for you during summer!
2. Watering
There must be nothing as important as watering for a well grown garden and plants. The key rule here is to give them a good soaking in water rather than a daily sprinkle. Not only will this ensure water conservation to some extent, it will also be better for the plant and with time you will realize what plant needs more water. Also, keep your ever green well hydrated and do not let your roses dry out.
1.     Mulching
Last but certainly not the least, Mulching with a well rotter garden compost will not only ensure a well-conditioned soil but will keep away the weeds. This ends our list of the top ten gardening tips which if followed religiously can ensure a good and green garden!