I think we can all agree that one cannot watch Gossip Girl, Sex & the City, The Devil Wear Prada, and the Red Carpet without recognizing the best brands in shoes out there. And once we do, we cannot help but ogle at the amazing collection that the come up with every season. So instead of you trying to decide for yourself which are the must have best shoes for this summer of 2013, we have taken the liberty to select for you. And not to worry, for all those who think the price range is way above their budget, imitations are always available, you only need to know the style. So let us start – chop chop!
10. Christian Louboutin – Troca Pixellated Python Platform Pump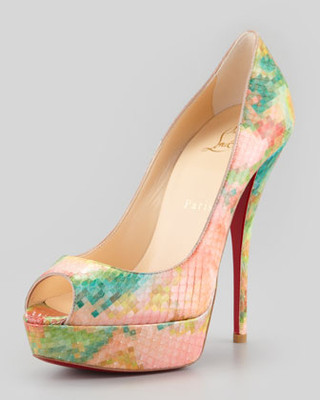 This shoe is priced $1595 and for a brand like the Louboutin's, this one is actually pretty fairly priced. It is obviously a peep toe heel of about 4 inches. The material on the shoes is what we in the fashion world call python skinned pumps. This particular pair is made in Italy and is one of the hottest summer sales.
9. Yves Saint Laurent – Paloma Sandal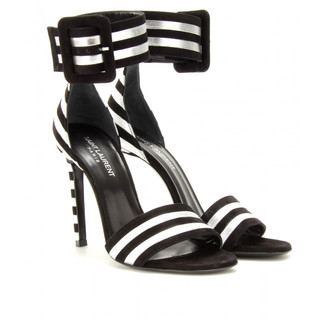 This priceless pair by Saint Laurent is available for $995. It is purely leather and available in the black and silver leather combination as shown in the picture. This pair was also made in Italy and would look very classy in the summer especially if paired with a dress focused on color blocking.
8. Manolo Blahnik – Arpegeny Snake-Band Slide Sandal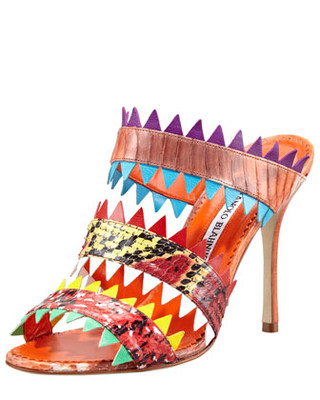 The Manolo's are priced at $865, and it is a good price to pay for this brand. These Arpegeny sandals have all the summer colors in them with the main straps being imitation snake skin. The shoe is entirely leather and so is the four inch heel and the lining of the shoe (which includes the sole too). These would go with all those summery, flowy, and floral dress that you might have in your wardrobe. I hope you are liking our list of 10 Shoes to Wear For Women – Summer 2013
7. Charlotte Olympia – Octavia' Gold Sandal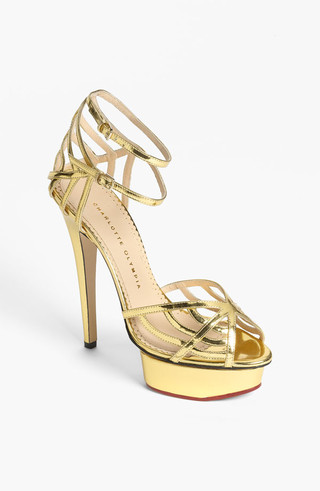 You know how we all have those golden dresses made to order in our wardrobes most often and we are looking for the perfect heels to pair up with them. Well it seems like the fairy Godmother of shoes has answered our prayers. On number six in our list of the best summer shoes for 2013, we have this gorgeous and glamorous pair by Charlotte Olympia priced at $1195.
6. Bernardo – Miami Cork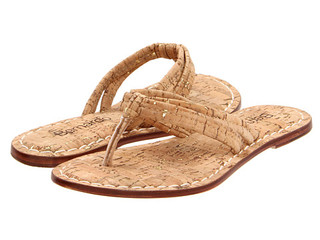 The Bernardo's define the perfect flat soled sandals which remind us of the vintage and beautiful streets of Rome and Greece. These beautiful shoes are priced at a very reasonable $107.99 and would look brilliant when the summer is at its best and you cannot bear putting your feet into something close and warm. Walk all you want in these and there shall be no foot pains since there is absolutely no heels. One of the best sellers for this summer, these are the shoes to walk in when you want to walk on air!
5. Saint Laurent – Tribute' Black Patent Leather T-Strap Sandal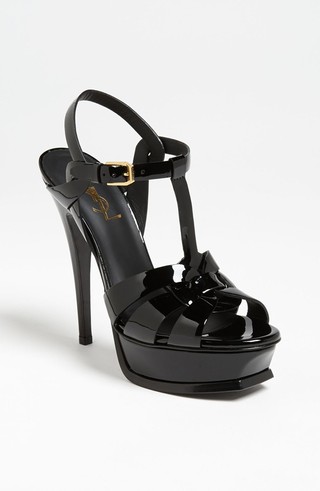 These black patent leather sandals by Yves Saint Laurent is placed on 5th in our list of 10 Shoes to Wear For Women – Summer 2013, to us, seems to have Taylor Momsen written all over it. Now we aren't saying that the heels were designed keeping her in mind or for her in any respect, but these Gothic beauties are perfect as those black heels in the summer when you feet shine in the freshly done French manicure. Show of those toes under a small black dress by drapping your feet in the Saint Laurents and we shall see who fails to fall in your feet.
4. Gucci- Mystic White Patent Ankle-Wrap Cage T-Strap Sandal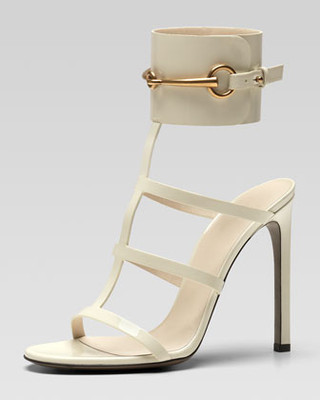 When it comes to making style statement, how can Gucci ever go wrong? These beauties in white with a hint of golden bling will look right with whatever they are paired with. They are a powerful fashion statement on their own and just for $850.
3. Jimmy Choo-Kendall Beaded Platform Pump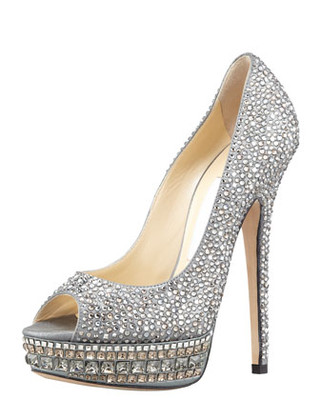 Next in our list of best summer shoes for 2013 are Jimmy Choos and how can they not be. JC's are supposed to be THE brand as far as classy and fashion savvy heels are concerned and that too for adding that much needed bling to your overall outfit. These are as fit under a ball gown as under a prom gown for $2995.
2. Casadei – Flat Crystal Toe-Ring Sandal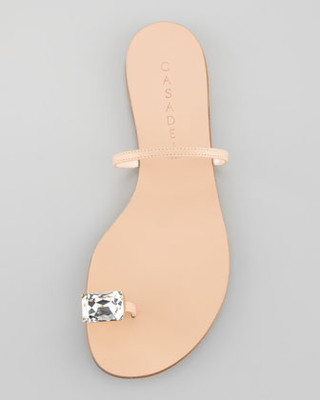 We need not say much about these very simple, flat heeled, very summery, yet equally classy sandals! All we need say is that for $520, this is a must buy this summer.
1. June Ambrose for theme – "Turner" Suede Sandal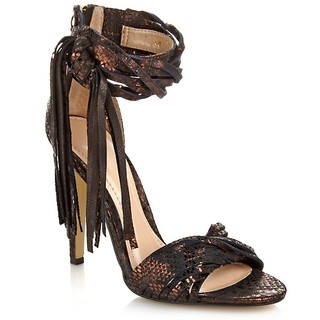 Last but certainly not the least, these beautiful heels in suede with snake embossed upper part are the perfect combination with pants and skinnies especially when you have no time to dress up or change! For $109, these will add just the right amount of glamour!