Let's face it: we are all hurting. The financial crisis has hit us so hard that a lot of us are striving to make ends meet. Food prices are rising, services aren't getting any cheaper, but wages are capped at what we were making a few years ago. As a consequence, everybody is looking for ways to stretch their budgets. We have built a list of 15 awesome tips that will help you shop on a budget.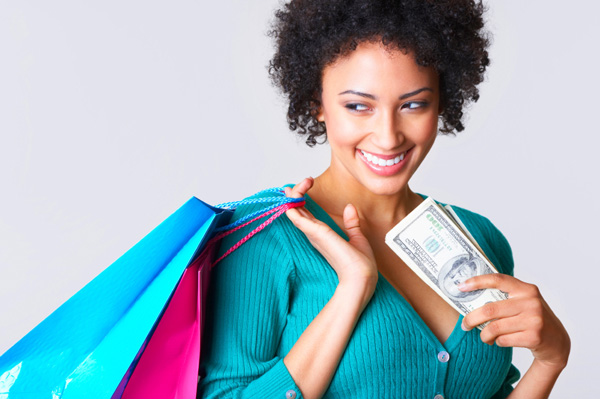 15. Avoid eye-level products
Supermarkets place the most expensive items right in front of you, and the cheapest ones are on the very top or the very bottom. Do some bending and stretching and you may find some nice bargains.
14. Don't take kids to shopping
If possible, leave the kids at home when you go to a store. Better yet, go there all alone – not with friends, family or, even worse, pets. They will distract you and you will tend to do a lot of impulse shopping.
13. Ask for cold cuts to be sliced thin
If your family loads up on deli products, then thinner slices can go further, and your family will probably not even notice the difference.
12. Compare unit sizes
In spite of what we are lead to believe, the bigger package is not always the best deal. Make sure you compare unit sizes instead of packages as a whole and you will find, for instance, that every once in a while a four-pack of smoothies costs more than four units bought individually.
11. Only use credit cards if necessary
A lot of budgeting experts recommend that you shop with cash only, or a debit card at most, so that you avoid going into debt. While proper cash management is crucial to shopping on a budget, you can earn points and even cashbacks if you use a credit card. Some credit institution reward you with up to 3% of your shopping, which can be quite a nice save.
10. Apply for a store card
Store cards give you extra savings on some items without the need to clip coupons. Some stores will give you points to use towards special items, like a turkey for Thanksgiving. Store cards don't have any issuing fees, but sometimes points get credited to your account only for purchases above a certain threshold.
9. Bring your own bags
Some stores will bill you for the plastic bags you put your products in. It is, therefore, advisable to bring your own bags – it will save you some pennies with each round of shopping. Re-using bags is also a good policy for the environment, so you will also be doing the humanity a favor.
8. Eat before you shop
As funny as it may sound, it's always advisable to have a full stomach when you go shopping. Everything looks good (and cheap) when you're hungry! Eat before you go shopping, and you won't feel the urge to get done with it quicker, so that you can grab a snack afterwards.
7. Keep an eye out for price match offerings
Stores like Target, Walmart or Best Buy sometimes offer a price match deal. If you find the same product with a lower rate somewhere else, they will refund you the difference (and sometimes pay you a bit extra). You can get similar deals if the product you bought goes on sale within a certain time frame – usually two weeks. You will need to monitor the local stores closely, but you can easily do this online, or by subscribing to their weekly catalogs.
6. Compare prices from multiple stores
I bet you wouldn't buy the very first house the real estate agent shows you. You also wouldn't buy the first computer you lay your eyes on, from the first store you walk in. Apply this concept to everything you buy – shop around first, see which store has the lowest prices. Don't go overboard with it though – if you drive from one end of a busy town to the other just to save a few pennies, you will find that the gas costs (not to mention your wasted time) aren't worth the savings.
5. Use coupons
A lot of stores use coupons as a way of attracting customers. You can clip them from the local newspapers or get them online and print them on your home printer. Keep an eye out for such deals – even if the discounts you get are in the range of a few dollars, such a practice can save you a small fortune within a couple of years.
4. Check the sales rack and the off-season sales
Most supermarkets will list products that are close to the expiry date in a dedicated rack. Their prices will be substantially lower, so make sure you keep an eye out for such deals.
Off-seasons are the perfect times to buy clothing at a discounted rate. Stores will want to empty their shelves to make room for the new season's collection, so everything has to go. It's not uncommon to run into discounts of as much as 75% of the original value.
3. Make a list – and stick to it
Make a list of what you need. Lists are known to help budget-conscious shoppers keep their focus and evaluate their needs better than deciding what to buy when in front of the shelves filled with goodies.
It will take some self-discipline to build a list with everything that you need and, furthermore, not to buy anything that's not written there. In time, however, you will get used to it, and will learn to love your lists once you see how much money you are saving.
2. Need vs. want
Understand the difference between stuff you really need and what you might like to have. Yes, it would be great if you had that shiny new iPhone 5, but do you really need a new smartphone? Won't your old Blackberry still suit your needs?
Learn to prioritize your needs – the list should start off with the items you need, in order of their importance. If you are left with some money, then you may buy yourself a little treat, as a reward for being a smart shopper.
1. Shop online
It's not only that shopping online is much more comfortable than driving to the local store – you may also find much better deals online. Internet-only stores have fewer overheads related to rent, sales staff, utilities and showrooms, and can afford to offer lower prices while still keeping a good profit margin. Shipping and handling is usually included if you opt for standard delivery and your total bill is above a certain threshold.
This list is by far non-exhaustive, but will rather give you some starting points and hints. Shop around, prioritize your purchases, don't fall for marketing tricks and your wallet will thank you.